Celebrate Women's History Month with these 10 coloring pages/posters featuring inspirational growth mindset quotes by noted Women Scientists and Engineers.
These NO-PREP pages are perfect for Makerspace posters, science notebooks, art classes, and more. They reinforce life skills and inspire students of all backgrounds.
---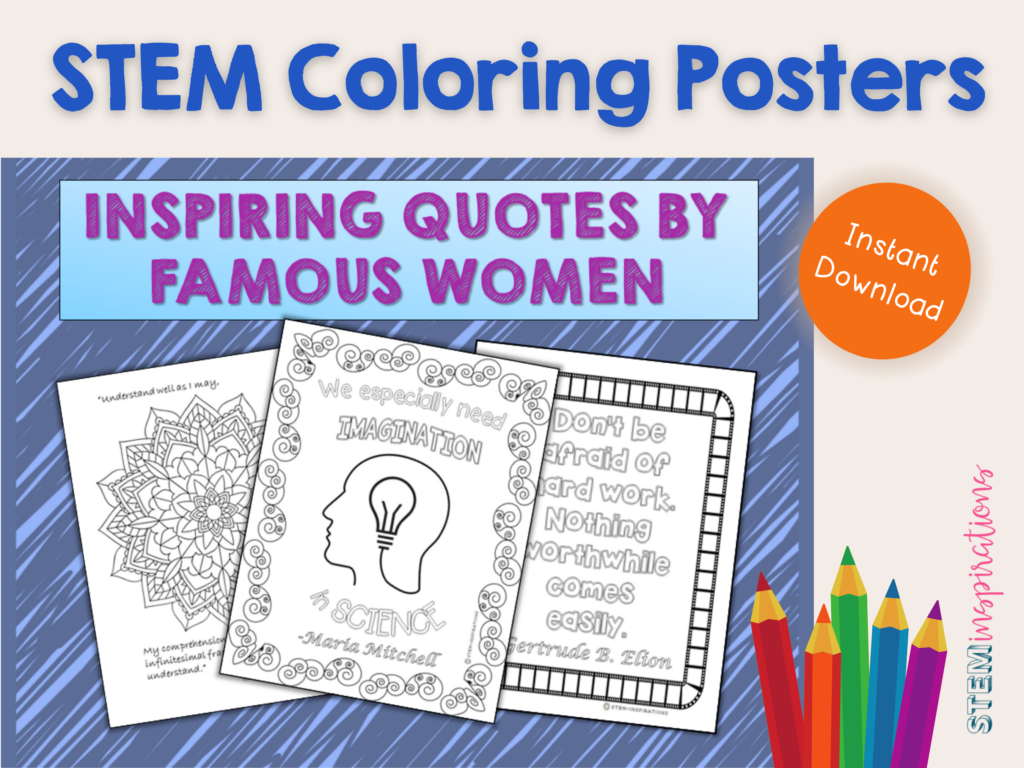 ---
Students can ponder these universal truths while coloring in the designs, which include mandalas, decorative frames, and more. The pages offer different styles and levels of detail. They are designed to work for a wide range of students.
Women Scientists and Engineers Quoted
Edith Clarke (February 10, 1883 – October 29, 1959) First woman to receive a degree in electrical engineering from MIT, first professionally employed female electrical engineer in the U.S., and elected to the Inventors Hall of Fame.
Marie M. Daly (April 16, 1921 – October 28, 2003) First African American woman in the U.S. to earn a PhD in chemistry, who performed ground-breaking research on cholesterol and heart disease.
Gertrude B. Elion (January 23, 1918 – February 21, 1999) Biochemist and winner of the Nobel Prize in Physiology or Medicine for her research leading to drugs for treating AIDs, herpes, and other viruses.
Grace Hopper (December 9, 1906 – January 1, 1992) Rear Admiral of the U.S. Navy who developed the first computer programming language compiler and helped develop the UNIVAC computer and COBOL.
Karen Spärck Jones (26 August 1935 – 4 April 2007) Cambridge University professor, advocate for women in computing, and inventor of inverse document frequency (IDF) for search engines.
Ada Lovelace (December 10, 1815 – November 27, 1852) Mathematician & writer who developed the first concepts of computer programming using Charles Babbage's concept of an Analytical Engine. (cont. below)
---
Visit the STEM-Inspirations resource library for a FREE PRINTABLE COLORING PAGE featuring a famous quote by Ada Lovelace.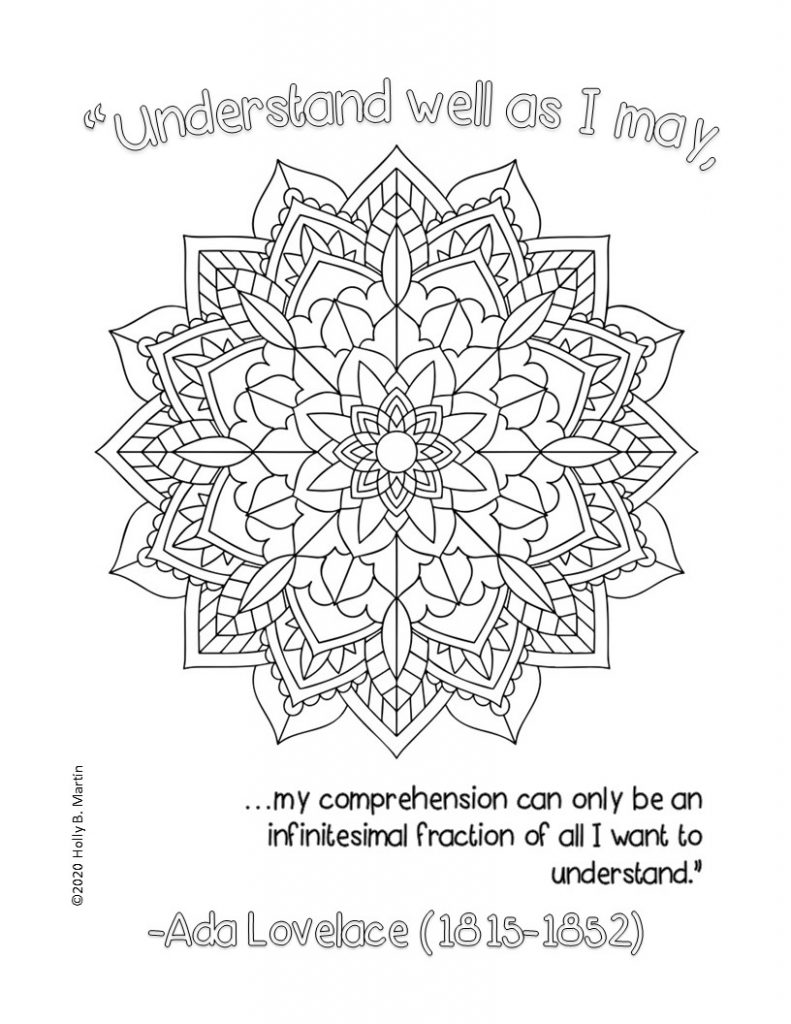 ---
Women Scientists and Engineers Quoted (cont.)
Maria Mitchell (August 1, 1818 – June 28, 1889) In 1947, as an amateur astronomer, she was the first to discover a new comet. Later she taught astronomy at Vassar College and advocated for women's education..
Radia Perlman (b. 1951) Programmer and network engineer, inventor of Spanning-Tree Protocol (STP) for Ethernet and robust, scalable distributed networks leading to the internet.
Ellen Swallow Richards (December 3, 1842 -March 30, 1911) Pioneering environmental scientist and educator who began the process leading to the first state water-quality standards.
Hayat Sindi (b. November 6, 1967) Biotechnologist, U.N. spokesperson and entrepreneur who develops new medical diagnostic tests.
---
Click here to order the full set of 10 Inspirational STEM Quotes Coloring Pages – Perfect for Celebrating Women's History Month.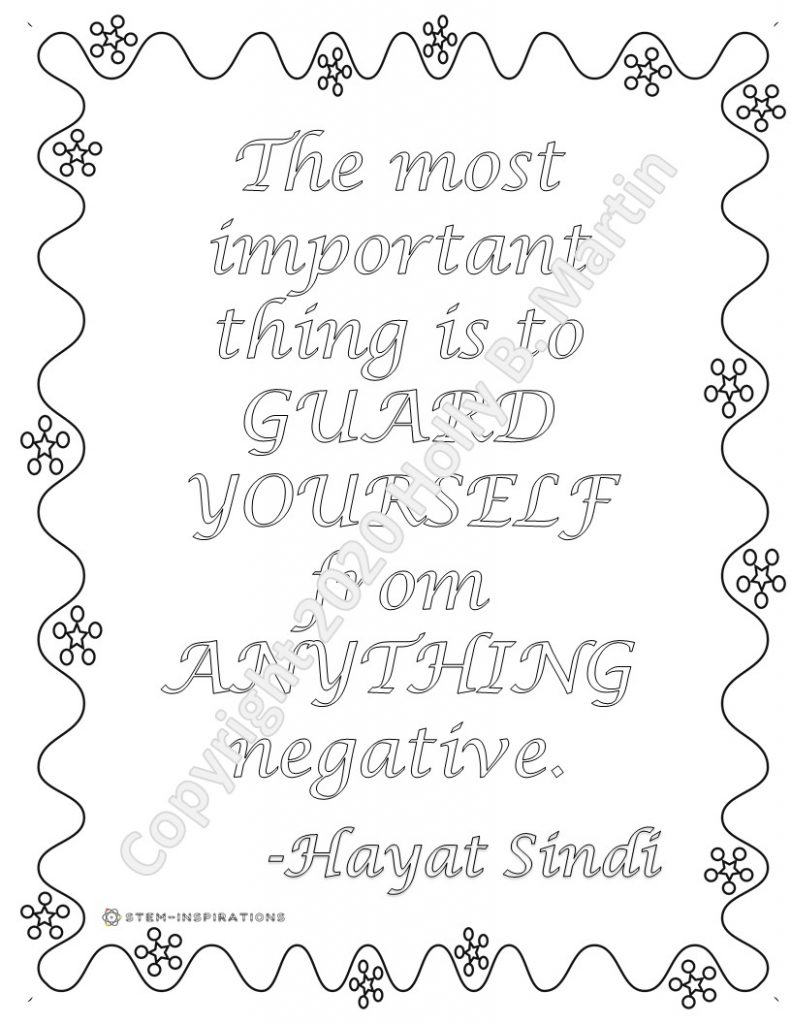 ---
Love STEM and love to write? Visit the STEM-Inspirations Free Resource Library to download a set of Science Journaling Pages featuring 10 quotes by African Americans in STEM
---
Find more STEM Inspirations:
On Etsy
On Pinterest
On Instagram
On Facebook