A Journal for Reflection
NEW! Includes 10 decorative coloring pages of inspirational STEM quotes!
It's inspiring to discover how influential scientists, inventors and engineers find their motivation and persevere through setbacks to make exciting new advances.
For many African Americans in STEM fields, their work has often been doubly challenging, as they faced formidable obstacles due to their race.
Disclaimer: This post contains affiliate links, including Amazon.com. Click here to view the complete STEM-Inspirations.com affiliate policy.
---
"I think every one of us has the power to be a genius. I was not born a genius; it was nurtured in me by my father."

~ Philip Emeagwali, High-Performance Computing Pioneer
---
This journal will stimulate and inspire current and future scientists, mathematicians, and engineers from age 10 to 110.
Let these inspirational quotations from famous African Americans in STEM guide your thoughts and dreams in this idea journal – one quote for each week of the year.
List of African American Scientists and Engineers Quoted:
Beth A. Brown (February 4, 1969 – October 5, 2008) NASA Astrophysicist & Science Educator.
Christine Darden (b. September 10, 1942) Aeronautical Engineer for NASA researching supersonic flight and sonic booms.
Mark Dean (b. March 2, 1957) Engineer & Co-inventor of the first IBM PC, the color PC monitor, and the 1-gigahertz microprocessor.
Annie Easley (1933-2011) Mathematician & Software Developer for the NASA Centaur Rocket Stage, used to launch the Cassini probe, and laying the foundation for launches of the Space Shuttle and satellites.
Philip Emeagwali (b. 1954) Nigerian-American winner of the Gordon Bell Prize for outstanding achievement in high-performance computing applications.
Mary Jackson (April 9, 1921 – February 11, 2005) First Female African American Aeronautical Engineer, who previously worked as a "Human Computer" for the segregated NASA West Area Computer group.
Shirley Ann Jackson (b. August 5, 1946) Theoretical Physicist, Telecommunications Pioneer, Educator, and Advisor to Presidents.
Mae C. Jemison (b. October 17, 1956) Medical Doctor, Scientist & First African American Female Astronaut.
Katherine Johnson (August 26, 1918 – February 24, 2020) Mathematician and "Human Computer" at the NASA-Langley segregated West Area Computer group who hand-calculated the trajectory of John Glenn's Friendship 7 Mission to verify figures generated by electronic computer.
Lonnie Johnson (b. October 6, 1949) NASA Engineer & Inventor of the Super Soaker Water Gun
Gerald A. (Jerry) Lawson (December 1, 1940 – April 9, 2011) Video Game & Computer Pioneer and developer of the first video game console system.
Jamice Obianyo (b. February 12, 1961) Chemist and Director of the Ecolab/Project WET Clean and Conserve Education Program, teaching kids to conserve water and making the world a healthier place.
Dorothy Vaughn (September 20, 1910-November 10, 2008) First African American Supervisor of NASA-Langley's West Area Computers and Early Fortran Programmer.
Julie Williams-Byrd, Electro-Optics Engineer, Volunteer Mentor & Acting Chief Technologist at NASA-Langley.
---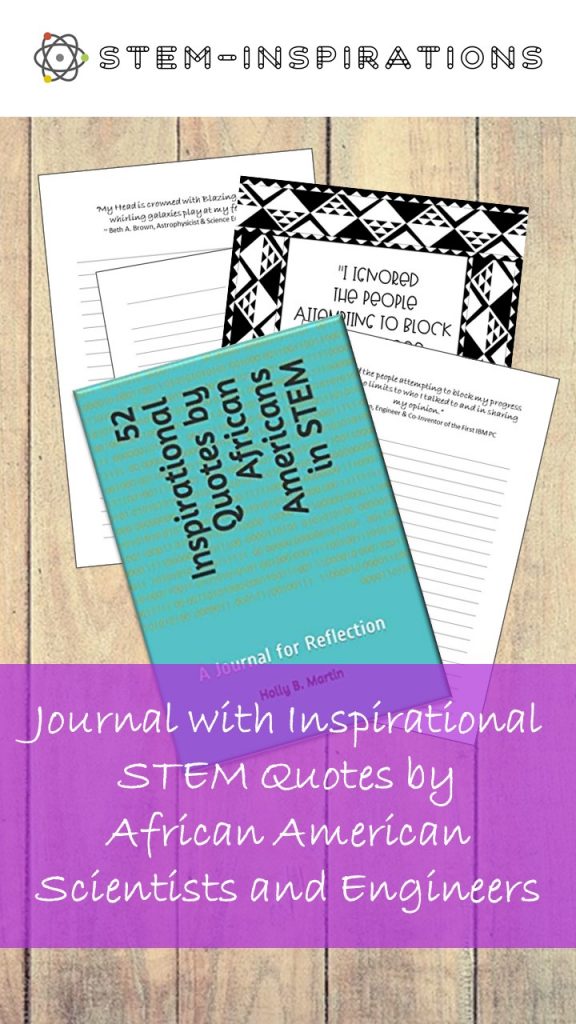 "I was able to stand on the shoulders of those women who came before me, and women who came after me were able to stand on mine."

~ Christine Darden, "Human Computer" & Aeronautical Engineer for NASA
---
This journal makes a great gift for:
Middle School Students
High School Students
Homeschool Students
College & University Students
Graduates
Teachers
Mentors
Apprentices
Co-op Students
Homeschooler Parents
STEM Camp Volunteers
Scout Leaders
Or treat yourself!
Available in paperback on Amazon.
---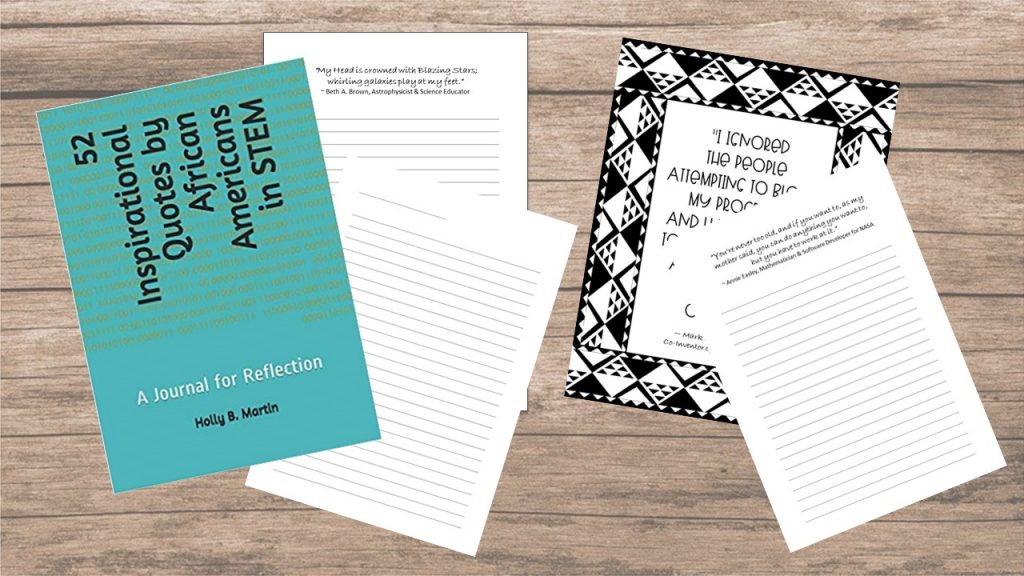 For this journal, I selected 52 inspiring quotations by 15 influential African Americans working in science, technology, engineering, and mathematics (STEM). These pioneers exhibited great courage and determination, breaking through overwhelming cultural, financial, and legal barriers to reach their goals.
---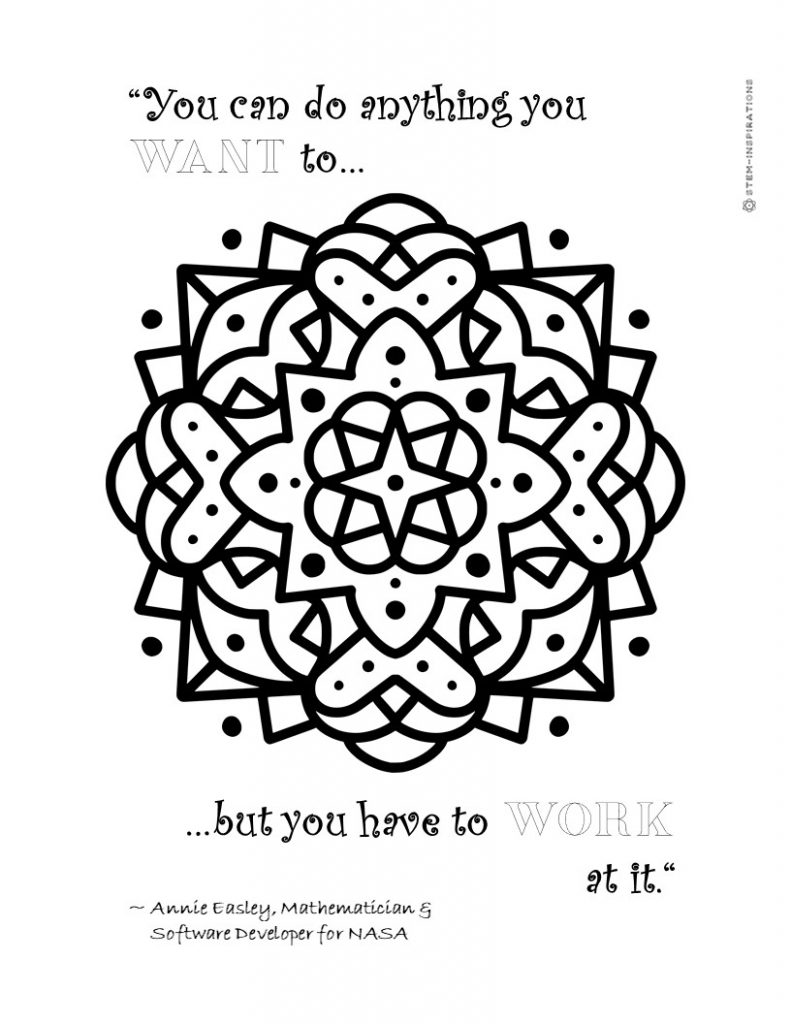 ---
Thought questions for journaling:
As you journal your way through the book, I hope you'll be inspired and challenged to pursue your dreams of scientific adventures – and to discover your own story behind the story.
"For me, it's almost magical being able to come up with ideas and then have them materialize."

~ Lonnie Johnson, NASA Engineer & Inventor of the Super Soaker Water Gun
Which STEM field captures your imagination?
Where do you see yourself on the path to career achievement five years from now?
What problems do you hope to solve in the world of STEM?
---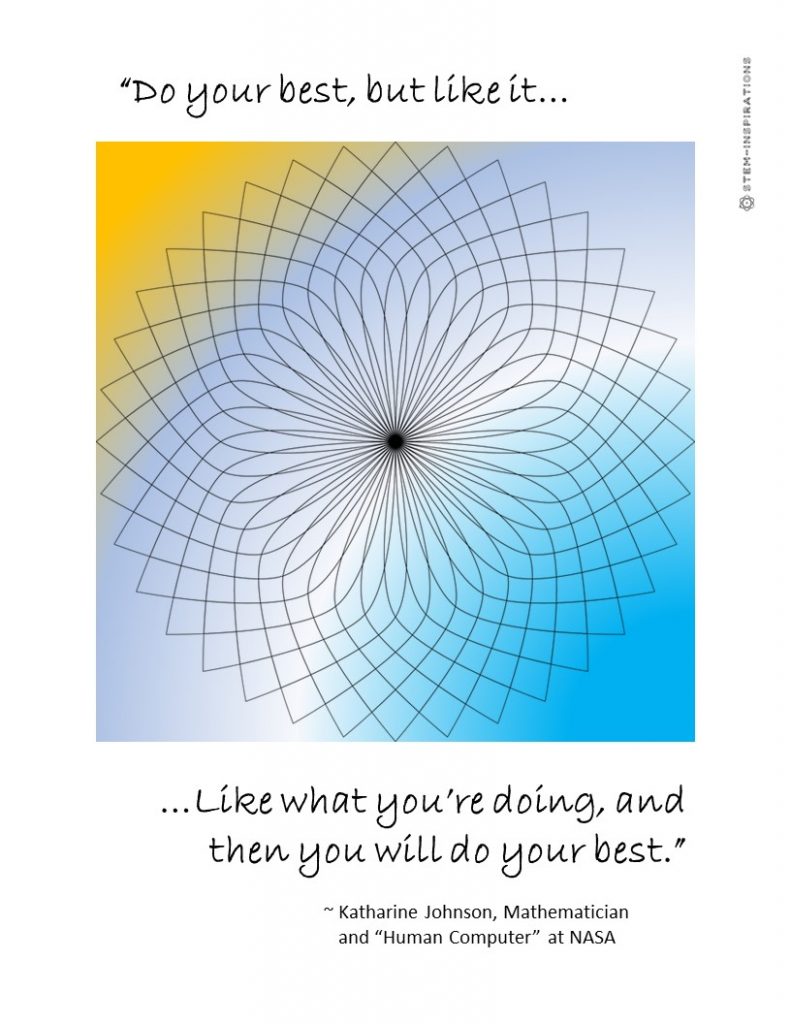 ---
"My High School chemistry teacher lit a fire under me and I knew immediately from that experience that I wanted to be a chemist."

~ Jamice Obianyo, Chemist and Global Sustainability & Community Outreach Director
Even more inspiration: Inspiring Quotations Coloring Pages featuring African Americans in STEM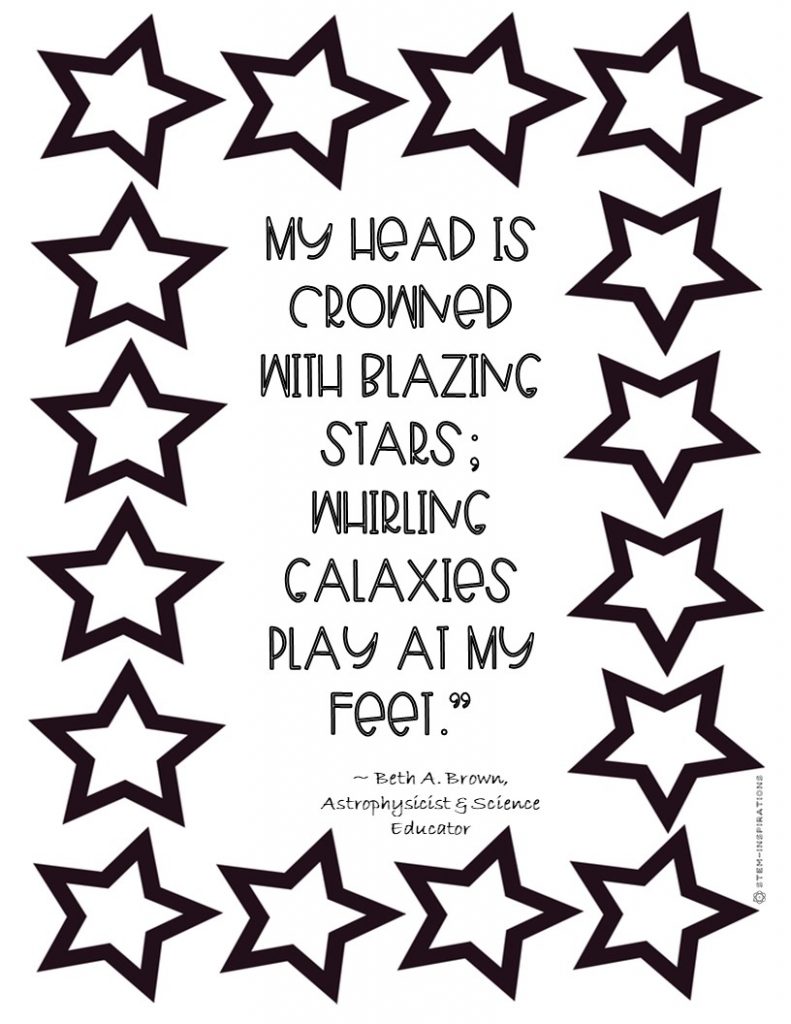 Sign up here for the STEM-Inspirations Resource Library for access to free e-books, mini-lessons and coloring pages.
---
More inspirational journals from STEM-Inspirations:
52 Inspirational Quotes by Women in STEM: A Journal for Reflection
52 Inspirational Quotes by Women in Computer Science & IT: A Journal for Reflection
"There's so many exciting things going on in the computer industry, that if you have an idea, a dream, something that you want to do, then just go for it."

~ Stephanie Shirley, Founder of software company in 1962 staffed completely by women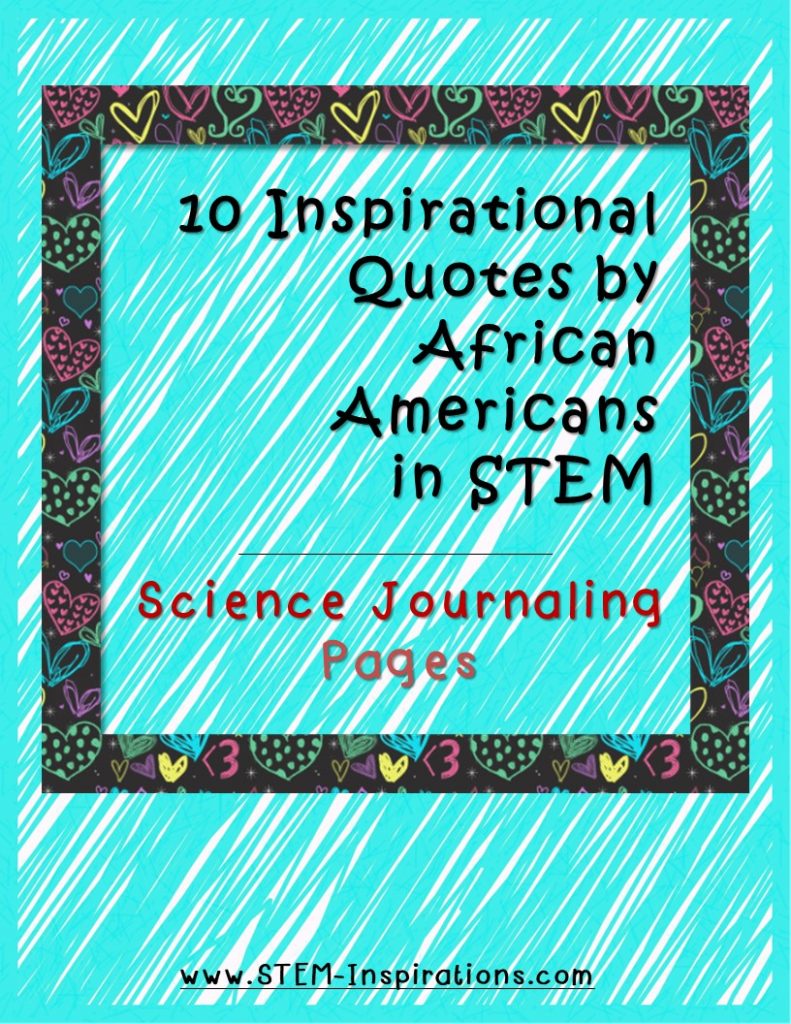 About Holly B. Martin
After earning my degree in environmental engineering and working in the field for eight years, I changed careers, becoming editor of a magazine about lasers and fiber optics. Since that time, I've written hundreds of articles, blog posts, and e-books on science and technology (See my freelance writing portfolio here).