"When we are chafed and fretted by small cares, a look at the stars will show us the littleness of our own interests."

– Maria Mitchell, Astronomer
Let these 52 inspirational quotations from famous women in science, technology, engineering, and mathematics (STEM) guide your thoughts and dreams in this lined journal – one quote for each week of the year.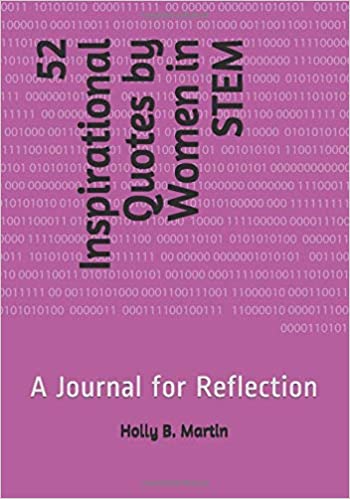 These "growth mindset" quotes will stimulate and inspire current and future scientists, mathematicians, and engineers of all ages, from elementary through graduate school – and beyond.
---
Includes quotes by famous women in STEM, including:
Marie Curie (1867-1934) Physicist & Chemist
Marie Maynard Daly (1921-2003) Biochemist
Maria Mitchell (1818-1889) Astronomer
Ellen Swallow Richards (1842-1911) Environmental Scientist
Cecilia Payne-Gaposchkin (1900-1979) Astronomer
Sofia Kovalevskaya (1850-1891) Mathematician
Annie Jump Cannon (1863-1941) Astronomer
Ada Lovelace (1815-1852) Mathematician
Emilie du Chatelet (1706-1749) Mathematician
Sophie Germain (1776-1831) Mathematician
Lise Meitner (1878-1968) Physicist
"I hope that I am winning a way which others will keep open."

– Ellen Swallow Richards, Environmental Scientist
This inspirational journal makes a great gift for:
Students
Graduates
Teachers
Counselors
Professors
Homeschoolers
Parents
Volunteers
Scout Leaders
Grandparents
Employers
Employees
Yourself
"First principle: never to let one's self be beaten down by persons or by events."

– Marie Curie, Physicist & Chemist
"If you can't give me poetry, can't you give me poetical science?"

– Ada Lovelace, Mathematician
---
You may also enjoy reading:
STEM Quotes Coloring Pages for Women's History Month
African Americans in STEM Inspiring Quotations Coloring Pages
Women in Robotics: Challenges and Progress
52 Inspirational Quotes by Women in Computer Science & IT: A Journal for Reflection
---
Click here to join the STEM-Inspirations mailing list.